Van Bael & Bellis wins place on UK Government's Trade Law Panel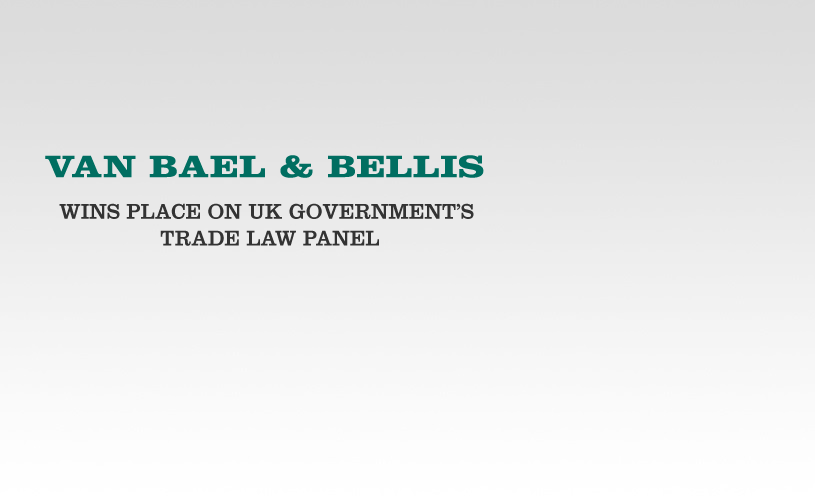 Van Bael & Bellis, the Brussels-based international law firm with offices in Brussels, London and Geneva, has been appointed to the UK's newly established panel of advisers to assist the Government in trade and investment disputes.
Following a competitive tender process, Van Bael & Bellis was selected to provide legal advice on international trade disputes (WTO and free trade agreements), trade remedies as well as international investment law and investment disputes.
Van Bael & Bellis' team comprises highly regarded lawyers in Brussels, Geneva and London. The firm has extensive experience representing States before international courts and tribunals and has particular expertise advising on international trade and investment law disputes. The firm has represented governments in numerous WTO and FTA dispute settlement proceedings.
The team is well known globally for its international trade expertise and is top ranked by all major legal directories. Chambers Global says: "Respected firm headquartered in Brussels known for its outstanding work in all aspects of Europe-wide international trade and WTO. Especially renowned for WTO and trade remedy matters, representing several government ministries in anti-dumping, countervailing and other significant disputes with the EU." The Legal 500 comments that the practice "has an excellent reputation for its strength in WTO disputes."
This appointment also coincides with the opening of Van Bael & Bellis' new London office and the expansion of its UK team with a partner specialising in international investment law and disputes.
Commenting on the appointment to the Panel, Managing Partner, Philippe De Baere said:
"Van Bael & Bellis is delighted to be included in the Panel and looks forward to playing a key role in assisting the UK government in international trade and investment disputes, as the United Kingdom enters a new era of trade and investment opportunities."