Van Bael & Bellis performs strongly in the Legal 500 2020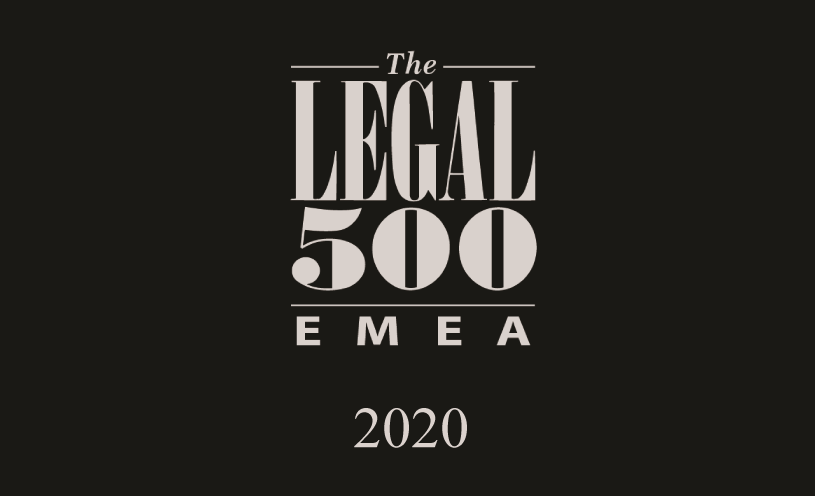 Van Bael & Bellis has secured top-tier rankings for six practice areas consolidating its position as a leading independent law firm in the Legal 500 EMEA 2020 recently published online. In total, twenty-nine of the firm's lawyers have been recognised in no fewer than ten practice areas: this includes a new ranking for Privacy and Data Protection.
Team rankings and a flavour of their accolades now follow.
Customs, Trade and Anti-dumping (Tier 1): 'Van Bael & Bellis' team stands out for its "practical approach"' and 'has an excellent reputation for its strength in WTO disputes' WTO: Switzerland (Tier 2)
Healthcare and Life Sciences (Tier 1): 'Van Bael & Bellis' life sciences team attracts praise for its "outstanding knowledge of the pharma industry" and "great competition law expertise".'
Competition - EU and Global (Tier 2): 'The firm's reputation in Brussels and throughout Europe is unmatched. Van Bael & Bellis is always my first call in the EU.'
Competition - Belgian Law (Tier 2): 'Van Bael & Bellis features prominently in all areas of Belgian competition law, with a particular strength in highly sensitive investigations.'
Dispute resolution (Tier 2): 'Van Bael & Bellis has "excellent knowledge of the law", and has solid expertise in life sciences, competition and IP disputes.'
Commercial, Corporate and M&A (Tier 3): 'Van Bael & Bellis' "Pragmatic lawyer" Michel Bonne leads the team and attracts praise for "understanding the art of deal making in combination with a real sense of legal judgement and knowledge".'
EU Regulatory - Privacy and Data Protection (Tier 3): 'Van Bael & Bellis' "very responsive" team, led by counsel Thibaut D'hulst, has been kept busy with GDPR compliance and e-privacy matters, among other areas.
Intellectual property (Tier 3): Peter L'Ecluse and counsel Thibaut D'hulst jointly head Van Bael & Bellis' IP practice.
Employment (Tier 4): 'The "extremely experienced" and "very responsive" team at Van Bael & Bellis has established strength in advising clients from the life sciences sector on social security matters, collective and individual dismissals and compliance matters, and has also been advising on restructurings.'
The lawyers recognised by Legal 500 across these ten practice areas are:
Jean-François Bellis, Sara Beutels, Michel Bonne, Michael Clancy, Gabriele Coppo, Philippe De Baere, Thibaut D'hulst, Clotilde du Parc, Porter Elliott, Fabrizio Di Gianni, Martin Favart, Catherine Gordley, David Hull, Tim Kasten, Andrzej Kmiecik, Peter L'Ecluse, Valérie Lefever, Catherine Longeval, Richard Luff, Hannelore Matthys, Pablo Muñiz, Andreas Reindl, Yuriy Rudyuk, Benoît Servais, Michel Struys, Johan Van Acker, Kris Van Hove, Eléonore Waterkeyn, Markus Wellinger.
The full rankings can be accessed here.