Van Bael & Bellis awarded top rankings in Chambers Global 2021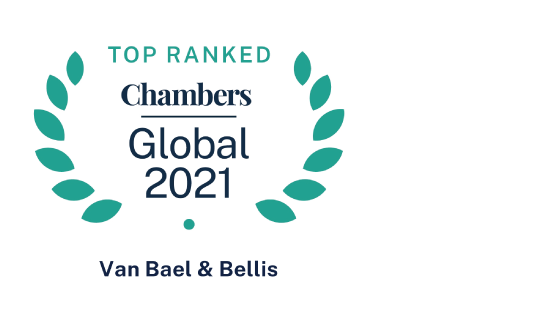 Van Bael & Bellis has once again been awarded top rankings for its Competition and International Trade teams while its Corporate M&A team continues to be ranked among the top independent firms in Brussels by Chambers Global 2021 whose results were recently published online. Fifteen partners feature in the 2021 edition as either senior statesperson, star individual or notable practitioners.
Competition team (Band 2): Chambers Global 2021 recognizes the firm's strong offering of both EU Competition and domestic competition law noting as strengths: behavioural antitrust matters (cartels and abuse of dominance), handling significant appeals against Commission decisions, follow-on damages claims, strategic advice on lawsuits filed in multiple EU jurisdictions, advising major multinational companies on compliance matters and merger control.
Head of Competition Andrzej Kmiecik "has a wide range of experience in matters relating to vertical agreements and assists [clients] with obtaining merger clearance". The "experienced competition litigator" David Hull "represents clients in cases before the CJEU, with substantial expertise in the pharmaceutical sector". One client says: "If we have major competition issues in Europe, we would go to him first."
Van Bael & Bellis Founding Partner and Chairman Jean-François Bellis "remains a key litigator in Brussels". While giving him the ranking of "Senior statesperson" (an exceptional individual category), Chambers notes his "substantial history in competition law, providing clients with his experience in contested mergers, as well as abuse of dominance and cartel investigations". Johan Van Acker who specialises in merger control is "someone I can trust to know our business and our sector and to provide quick, pragmatic advice". Kris Van Hove "is an experienced competition litigator, advising clients on appeals against cartel decisions and defending them in cartel damages actions" and is spoken of as "an excellent competition lawyer" who "stays calm and makes the right judgement calls." Markus Wellinger "represents clients in appeals to the EC in relation to cartel decisions, as well as assisting clients with merger control procedures. He acts for clients from the mining and recycling sectors."
According to clients, Porter Elliott is an "extremely talented, highly skilled lawyer with deep expertise in the area". He acts for clients from the transportation, chemicals and payment services sectors on merger clearance procedures.
International Trade team (Band 1): "Outstanding practice with a tremendous reputation for work opposing the imposition of trade remedies by the EC, acting for an impressive range of clients", the team supports "European companies in investigations carried out by the EC and other trade authorities across the world". Key partners are also well known for their presence in WTO proceedings. The team handles diverse customs matters, including disputes with national customs authorities and CJEU referral cases concerning the application of customs law in complex cases. Additional strength in sanctions compliance topics and litigation is also noted.
Clients say of the team:
"They have huge experience and technical knowledge of the processes," adding: "Whenever we had questions, we could reach out to them and they were immediately answered."
"Listening to everyone's requests and accepting the opinions of others is the strength of Van Bael & Bellis."
"The cooperation is very uncomplicated, they are flexible and always on time."
Benoît Servais is described by clients as "really supportive, brilliant and knowledgeable", adding that "his expertise is beyond expectation". He is reputed for his knowledge of the EC and expertise in anti-dumping investigations. Fabrizio Di Gianni is "highly experienced in trade remedy proceedings and well introduced in the relevant European and national political institutions". Another source notes: "He always lets us know about local cases and developments even when we are not working together". He acts for foreign exporters on EU anti-dumping investigations and for European manufacturers on proceedings initiated by trade authorities in various jurisdictions. Jean-François Bellis is also given the rank of "Senior statesperson" in this area, being described as "a highly reputed figure in the international trade space, noted for his extensive experience and role as the firm's founder". Head of the Customs practice, Pablo Muñiz "advises on customs and sanctions matters, including tariffs and free trade agreements, often representing clients before the EU General Court and WTO." Managing Partner Philippe De Baere is given the ranking of "Star individual" (having received exceptional recommendations). He is reputed for his experience in trade defence investigations carried out by the EC, with further activity in WTO proceedings. He garners praise for his communication skills, with one client noting that "he understands people very well and what is the priority for different people". Richard Luff is "extremely experienced, which you recognise from whatever he is saying. From one to ten, he is ten at his level". He often advises exporters based outside the EU on EC anti-dumping or countervailing measures. Yuriy Rudyuk "is lauded for his pragmatic approach and responsiveness. He advises Eastern European-based industrial companies on trade defence investigations carried out by trade authorities."
International Trade / WTO (Global Market Leaders) (Band 4): As regards the extra-EU International Trade space, Chambers views Van Bael & Bellis as a "widely respected firm headquartered in Brussels and bolstered by a fully dedicated team in Geneva" and states that "Van Bael & Bellis is known for its outstanding work in all aspects of Europe-wide international trade and WTO". The firm offers:
• Renowned expertise in WTO and trade remedy matters,
• Experience representing several government ministries in anti-dumping and countervailing disputes with the EU.
• A robust trade customs practice.
• An active involvement with Latin American, Asian and Russian clients.
"Van Bael & Bellis is fully qualified to opine about EU trade sanctions. If you have an issue around US trade sanctions, you have the benefit of their connections, without having to directly seek to find US counsel, which is very helpful. I needed a global picture, and that's what I got. "
Both Founding Partner Jean-François Bellis and Managing Partner Philippe De Baere are named for their work in the firm's international trade and customs team.
Corporate M&A (Band 3): The "reactive and client-minded" Michel Bonne heads the "solid" Corporate M&A team and is "a pragmatic and problem-solving oriented lawyer" who advises on a broad range of matters including auction sales, acquisitions and corporate restructurings and represents private equity houses and venture capital investors.
Dispute Resolution (Band 4): Head of Litigation the "experienced litigator" Catherine Longeval is noted for being "particularly adept at handling mandates within the life sciences sector".